Use Talent Management to grow your business
In this blog, we cover the importance of Talent Management for SME growth. However, the concepts discussed are just as relevant for larger organisations too!
Hire the right people
There are different aspects to Talent Management for SME's to consider. The first involves hiring the right candidates. Hire the right people and your SME will likely flourish. Hire the wrong people and it can be expensive and time-consuming to part ways; as well as being disruptive to other workers.
A 2018 global survey conducted by recruiter Robert Half found that more than eight in ten HR decision-makers admitted to making poor recruitment decisions. Other studies have placed the cost of hiring the wrong people between £30,000 and £130,000, depending on levels of seniority. As such, in a small organisation, the wrong hire could stunt SME growth and jeopardise the business entirely.
Research conducted by the CIPD into 12 case study organisations of a range of sizes and industries pointed to the value of hiring the right people. The right people defined as those that fit culturally, and have the technical abilities to carry out the job. Furthermore, the Research recognised the significant impact one person could have on the culture of an SME.
The CIPD recommended two questions to ask to find the candidate with the right cultural fit:
1. Does this person share our organisation's value?
2. Can I see this person growing with our company?
Talent Management Tip: Try to involve your Team in the recruitment process. For example, you could ask them what qualities they would look for in a new work colleague?
For more information specific to the recruitment aspect of Talent Management, why not listen to The HR Uprising Podcast episode: Reducing Bias In Recruitment. The Podcast is hosted by CEO of Actus, Lucinda Carney.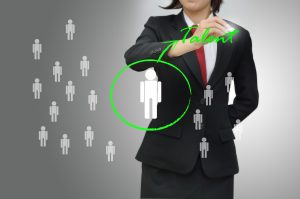 Make staff development important
CIPD research has consistently found that staff given the opportunity to develop and learn has huge benefits. For example, it increases job satisfaction and motivation, improves employee engagement and helps with staff retention. In addition, staff development has the benefit of being able to upskill your workforce. All of these factors can positively contribute to talent management for SME growth.
Making learning part of your SME's culture should be a continuous process (just like performance management should be). However, the cost is the biggest stumbling block SME's face when it comes to L&D. To keep costs low, we would suggest some of the following methods for developing staff outlined by the CIPD research:
Shadowing more senior or long-serving colleagues to ensure vital skills are passed on.
Engaging in volunteering programmes to develop staff skills whilst also giving back to the community.
Offering secondments to other parts of the organisation to try out a new role where upwards promotion is not possible.
Talent Management Tip: Ensure that staff development is not considered an after-thought. Ensure managers hold regular conversations with staff about learning and development opportunities. This will highlight their value as an employee and could present internal opportunities e.g. a new job role that contributes towards SME growth.
For more information on making staff development integral to your SME's practices, read our blog: How SME's can develop their staff in 3 easy steps. For a more in-depth understanding of this topic, download our white paper: 7 simple steps to people development.
Develop Management Capabilities
The CIPD recognises that finding ways to develop managers and leadership capabilities is essential for the long-term health of your SME. No matter how skilled a manager is, their impact on business performance can be negative if they are not a good fit. We cover this topic in our blog: when experience leads to underperformance.
Furthermore, a survey by Process Bliss found that up to 45% of SME employees have quit their job at some point because of their boss. This is particularly bad news for SME's, where the cost of losing a staff member is truly felt.
Costs include:
Recruitment cost
Training cost
Reduced staff morale
Increased staff workload
The threat of further resignations
The issue is that Leadership Roles are often dealt to existing high-performing members of staff as a 'promotion' when the demand arises. This may save SME's time and cost in recruitment but can lead to managers not having the necessary skillset.
Your SME may not have the financial resources to spend time on people management training or time for learning away from the job. However, they could use personality tools such as Strength Deployment Inventory to identify those with the 'people gene'. You can find out more in our blog: have your managers got the people gene.
Talent Management Tip: After identifying employees with the potential skills for management, cost-effective methods for developing management capabilities can then be introduced. For example, by using internally-led coaching or employees shadowing other managers to learn on the job. Using a cost-effective Performance Management system such as Actus Software can further help by providing a platform for year-round performance management conversation.
For more information on developing manager capabilities read our blog: 7 habits of highly effective managers.
Why Talent Management is important
In this blog, we have outlined 3 key aspects of talent management for SME growth. Recognising the importance of talent management in the first place is an important step, that employers can't afford to ignore. For example, as loyalty amongst millennials diminishes within the UK, SME's must work even harder to beat their competitors in retaining a strong, talented workforce to encourage SME growth.
White paper: How to develop a Talent Management Strategy
Blog: 5 Talent Management Dilemmas