HRi – HR Independents Professional Membership Organisation
HRi (HR Independents) is a community of predominantly self-employed HR professionals working together to provide innovative, professional, and quality HR services to businesses across the UK. We are excited to be working in partnership with HRi in order to help build a better workplace for people. We are helping HRi to achieve this by providing access to our comprehensive Actus Performance and Talent Management Software. In addition, members of HRi can access our free value-add services which include the weekly HR Uprising Podcast and monthly topical webinars.
Implement Compliance Solutions & Resources (ICSR)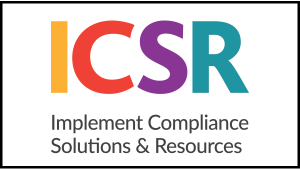 ICSR provides day to day advice, support, and resources on risk, compliance, and regulatory matters and when the transformation is required due to the development of new products or distribution models, new laws and regulations, or as a result of regulatory intervention including remediation. We are delighted to be collaborating with Actus to support Financial Services firms looking for strategic support in understanding the issues raised by the Senior Managers & Certification Regime, alongside Actus Comply, the first fully integrated performance appraisal, and SM&CR software in the market-place.