Building The Business Case For Performance Management Software
HR Professionals can be criticised for appearing to lack business or strategic focus; exemplified by outdated paper-based appraisal systems. These paper-based appraisal systems don't deliver any business benefits and therefore act as a 'tickbox' exercise. To drive performance excellence, a people-focused system that supports and embeds the right staff behaviours is required. So how does HR present the business case for online performance management software?
'HR professionals must be an essential component of the business in order for it to succeed.' stated Tess Smillie, Vice President HR, Samsung UK & Ireland. In support of this, HR professionals need to understand what the business needs are and then translate this into a compelling message that convinces their boardroom colleagues.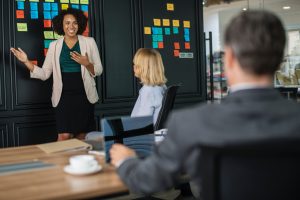 To help build the business case for performance management software, we have outlined some key arguments:
1. It will empower both managers and individuals
Using performance management software like Actus gives greater visibility and empowers managers and individuals to take control of their annual appraisal process whilst increasing accountability and buy-in from the end-user.
2. It will increase employee engagement
Using an online solution encourages meaningful year-round people performance conversations which in turn increases employee engagement.
3. It will increase talent retention and reduce recruitment costs
Recruitment and replacement of top talent can be as high as £80,000. Using performance management software will save money in the longer term as a happy workforce is a stable workforce.
4. It will increase compliance and reduce risk
Online performance management software increases compliance and reduces risk by providing a clear audit trail of employee actions and interactions. This then allows for the regular recording and monitoring of qualifications and performance milestones.
Actus Comply, part of the Actus Performance Management Software, is being used by solo-regulated financial firms required to show compliance with the FCA's Senior Management and Certification Regime in order to avoid hefty fines to the firm and individuals.
Building a compelling argument for performance management software
HR professionals need to become more commercially minded in order to build the business case and support their cause with evidence. For example, HR may put forward the compelling business argument using metrics that performance management software can help reduce the loss of talent due to poor people management and processes.
For further information on choosing the right system, that fits well within your business, you can find out more by reading our white paper on the topic or you can read our blog: Which is the best performance management system for your business? 
White Paper: Building the business case for Performance Management Software