With many businesses turning away from the traditional appraisal process, it is so important to get 360 feedback right. It can often be seen as the panacea, however there are a number of obstacles to overcome if you wish to avoid a costly and potentially damaging process. Below we have outlined our suggested 5 steps to success with 360 feedback:
5 steps to success with 360 feedback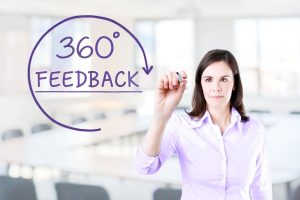 1. Ensure clarity about the purpose of 360 feedback
Is the purpose to be developmental or to evaluate performance? It has been shown that people rate performance differently based on their understanding of the purpose. So people may be more honest about specific behaviours if they know that the purpose is developmental, and less so if they think it is going to affect reward. Ensure that respondents know whether their responses will be visible or anonymised because that will also affect the style of response
2. Ensure the questions are relevant to the purpose
If possible, ensure that the questions are relevant rather than generic. So against behaviours that should be valuable to the job role or level of seniority of the respondent. It can be frustrating to get feedback on potential flaws that are completely irrelevant to your job role or aspirations. By ensuring relevant questions are used you are able to cut down on the number of questions asked, making it less onerous for respondents
3. Oversee the respondents
Try to ensure that a good mix of respondents are invited who have sufficient experience of the subjects' behaviours to be able to comment and are likely to be honest and reasonably objective. You may want to question why certain key stakeholders have been left out as the value of any feedback derived from an unrepresentative sample is going to be significantly reduced.
4. Provide a coach to debrief the report
This can make all the difference to the power and learning from 360 feedback, although it significantly increases the investment. A coach will help the individual to step back from the feedback and de-personalise it, minimising the chances of offence and helping them to develop their self-awareness positively.
5. Make it developmental
Ideally we should learn from 360 feedback, it should result in some development actions whether these are building on strengths or adapting weaknesses. We like to see 2 or 3 areas of growth coming out of any 360 coaching session.
Actus provides 360 design, coaching and reporting. Find out more about Actus 360 Feedback & Survey or contact us using the button below. You can also download our Whitepaper:The pros and cons of 360 appraisal.
About Actus Performance Management Software