The Definition of 360 Feedback
What is 360 Feedback? Well, it can be defined as the process of obtaining feedback from a variety of sources. Sources include: your manager, upwards, downwards, your team, sideways from your peers, or perhaps customers. So the term '360 feedback' derives from getting feedback from all those around you.
The 360 feedback process
The different sources will be asked a series of questions, typically behavioural i.e. things that you say or do, then they can comment on their experience. I actually think this leads to one of the real challenges with 360 feedback as people haven't always had the chance to experience these and therefore feel unable to comment.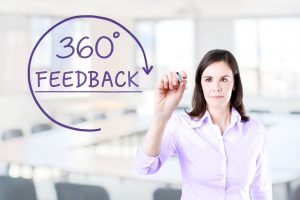 So, each source will then answer questions on a scale, commonly 1 to 5 or 1 to 6 is preferable due to the 'Central Effect' – where if you have a scale of 5 points people are more likely to go for 3.
An example question would be: 'how effective is Jane at delivering results against deadlines?'. Then, the different sources respond with a score, ranking to the extent to which they agree or disagree that Jane is effective at delivering results against deadlines.
So a score of 1 may be: 'not at all' whilst a score of 5 could be always or consistently. The scores are then sorted into representative groups. Now imagine a bar chart in front of you. At the top, you will see the individual's response and then the manager's response. Then typically, the other scores would be grouped together and the responses anonymised.
360 Feedback Technique
With the 360 Feedback Actus templates that we use, we try to apply categories to the responses. So, you might categories leadership or team behaviours, or analytical and strategic thinking. Different questions would align with the different behaviours and a nice spider graph can then be used to help people to see their relative skills.
Key points to remember
It's important to remember one key point about 360 Feedback – it is just perception. However, it is a really great tool if its managed and it's a great development tool. It's also really important that the process is introduced very carefully, that respondents recognise that they are going to be visible and that what is put on paper may come across more hard-hitting than something said in person. The final key point is that the first place for feedback should always be face-to-face! To find out more, read our e-book – feedback, the game changer for performance management. 
Why not listen to The HR Uprising Podcast episode that this blog was based on: 'The Pros and Cons of 360 Feedback' or download our white paper guide on 360 appraisals by clicking on the button below.
The pros and cons of 360 Appraisal