Why is it important to have effective onboarding?
An effective onboarding process helps your employees get to know the organisation, obtain clarity on their role and what's required from them. A poor onboarding process might give new staff negative assumptions about the organisation, which may result in attrition.
Nearly one-third of all new hires quit their jobs within the first six months which is especially concerning when most new hires take over 6 months to get up to speed. Whereas employees who experience great onboarding are 69% more likely to stay with an organisation for 3 years. In addition, organisations with a standard onboarding process experience 50 percent greater new-hire productivity. When considering recruitment costs, it's certainly a no-brainer to have an effective onboarding process in place to reduce attrition.
How can the onboarding process be effective yet simple?
Some advocates suggest the use of Onboarding software to lessen the load on HR managers. This is because most software processes will have a clearly outlined effective Onboarding Template, providing clarity and transparency to what is expected from all involved. Not to mention, no more chaotic paperwork!
Using software for your onboarding practices can also reduce manual intervention and human errors, providing a consistent experience for all new hires. Overall, it can shorten the time it would normally take to complete the employee onboarding lifecycle.
When is the right time to employ best practices?
Employee onboarding starts directly from the recruitment phase. Some processes allow you to have key facts about the new hire beforehand, allowing you to personalise their first day. For example, if their favourite colour is blue and they like specific chocolate, you can put a blue balloon and chocolate on their desk to welcome them into your team from day one. We also have a blog on the five types of onboarding your organisation should be doing here.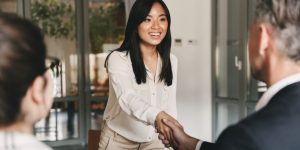 Certainly, it is essential to coordinate with key team members beforehand and notify them of the start date of the new hire. By coordinating ahead of time, you can ensure employees are ready to go right from day one. Think of all the little things that could potentially cause roadblocks; email, access and permissions to the relevant documentation, where to park, where to eat. If you are organised, this can cause great comfort for them, allowing them to push past the nerves and get started.
What does a new employee expect from you? What would demonstrate best practice?
An employee on their first day would be looking to avoid feeling overwhelmed. In order to remove their initial apprehension about feeling like an imposter in the role, it is important to break down the onboarding process into phases.
0-3 months
One potential reason why nearly one-third of new hires leave in the first six months could be a lack of clear communication of the responsibilities of the role. This can lead to the employee feeling "this is not what I signed up for". Therefore, it is essential that a line manager sets out their expectations for entering the working environment and culture. It should be made clear to new hires what their objectives are for their first week, and then for the following months.
Crucially, it is also important to set the foundation for good employee relationships between directors, managers, and teams. This can be achieved through introductions, or something we like to do is to have each team member designate 30 minutes to have a sit-down with the new hire. This enables us to explain the team member's current roles, where their skills lie and how they can help the new hire with any tasks they may have. This helps new employees to settle into their roles as well as fit into the overall company culture.
3- 18 months
The next two years of development should be all about the new hire communicating with the employer and finding out ways they can make a meaningful difference to the output of the company.
This would be a key phase for the Learning and Development (L&D) team within your company to engage with the new hire to find out about continual professional development courses that would be relevant to the new employee. This will boost engagement with the company, which will likely improve retention.
If you are from a smaller company without an L&D team, you can promote development in other ways. Perhaps through online courses from sites such as Lynda, or through advocating internal knowledge-sharing or by organising an external trainer. With cost constraints, it's especially important to conduct a thorough training needs analysis before deciding on what staff development to invest in. It's also important to think about what approaches would work for your organisation.
What are the common mistakes that companies make?
In the onboarding process, communication is key. Many firms get the"social" part of the equation right, but maybe at the expense of also managing onboarding-related tasks successfully. Some organisations stop socialising after the obligatory new hire lunch on day one of employment. The call to action here is for employers to start thinking beyond the first week for chances for new employees to collaborate with others.
How do you ensure effective onboarding?
Discussing the employee's experience and check if it matches their expectations. This is important during the waiting period between when your employee accepts your employment offer and starting the role
Reviewing their performance and offer consistent feedback during the first month
Checking in with the employee is important to see if the employee has any concerns or issues
Talk about career planning and progression for the next 6 months
The first quarter is also a useful time to ask for feedback about the onboarding process and any suggestions
Identify if they need any additional training in order to implement this over the next 12 months
Summary
To conclude, the best way to reduce attrition with new hires is to clearly define and communicate objectives, goals, and outcomes alongside timelines of achievement. It is also important to engage with the employee through the company network beyond just the first week. If they feel as though they are a part of the company culture, they will be more inclined to stay.
Infographic: The 5 Types of Onboarding