Do your managers support your performance review software?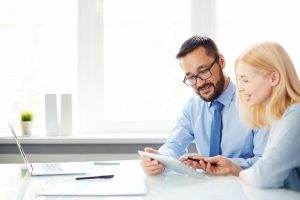 A problem faced when investing in any software is uptake. Performance review software is no different, it can act as an enabler but not offer a solution in its own right. For this reason, we work closely with our clients to ensure a high uptake.
How do you ensure managers are using your performance review software?
The fastest way to achieve uptake is top-down with managers support, encouraging staff to adopt the system. However, how do you get your managers themselves to use the software and ensure that quality conversations are documented? This is the ultimate challenge and the typical reason why implementation of performance review software can fail.
Common causes of implementation failure include:
1. Lack of a clear 'why'
To tackle this issue, the link needs to be explained clearly between introducing the system and business drivers. For example, introducing the system is going to help to deliver a high-performance culture.
2. Lack of Senior Sponsorship:
Without Senior Sponsorship or even Senior Management support, successful implementation of the system is highly unlikely! It may well be viewed as purely an HR initiative with no local champions to drive through the system benefits.
3. People management activities not taken seriously
For people to get on board with the performance review software, they must fully understand the value in taking time out for people management activities. Other work priorities may seem far more important and so expressing the value in people management activities is necessary so that people don't just argue they don't have the time for them. This also links with another factor – structural issues. Where managers have large amounts of direct reports, the process can be seen to require too much time.
4. Environmental issues
One of the most basic causes of implementation failure is lack of access to computers or meeting rooms to use the performance review system. At Actus, we have a number of public sector clients including a police force and emergency services which are constantly on the go. Therefore the Actus System uses an app to combat environmental issues so the system can be used anywhere.
None of these issues are insurmountable yet it is vital you address them proactively. Consider how to mitigate these issues prior to rolling out your new performance review system is key.
Here at Actus, we recommend following the Kotter approach to change management. As well as providing Actus Performance Review Software, we also provide a range of leadership and performance management training solutions that empower organisations to embed best practice processes and behaviours to ensure full support from managers of the performance review system and its successful implementation.