Organisational Development and Talent Management
In preparation for our webinar around talent management, we realised that often there are overlaps between Organisational Development (O.D.) and Talent Management, HR and Learning and Development (L&D). As a result, we will explore the differences between O.D. and Talent Management in this blog.
Linking Organisational Development and Talent Management
The key to remember is that O.D. and Talent Management must align with business strategy and enable the business to achieve outcomes. A business should be mindful of this and make that link overt. This has a key benefit; it means that you are much more likely to get investments from key stakeholders. This is because key stakeholders understand why you as a business are putting things in place. They're not just seeing that you're doing some development for the sake of it, as they can see that there's the purpose for the individual and for the business.
The terms O.D. strategy, HR strategy, L&D strategy could also apply. All four of them should align with business strategy but there are some subtle differences between them. So, what is the difference between O.D. and HR? Between talent management and L&D? Between the four of them? How are they different and how do they overlap? Does your job encompass just one of these strategies or does it overlap?
What are the subtle differences?
For O.D. differences, we know we're in the minority here, but our view is that O.D. is potentially broader than HR and HR could be a subset of O.D.. It isn't how it tends to sit in organisations but if we look at things more classically, you tend to think if you're involved in something that's to do with change, culture, culture change, then that is often O.D.. Now, that might be all very well in your job remit if you're in L&D, HR or Talent Management but generally speaking, if it is something to do change that would be different. That would mean that what you do would link to O.D..
The other thing that means that O.D. can sometimes span a broader space is the fact that it is often about broader business structures and processes. So that might include things like lean engineering or business process re-engineering or Six Sigma, some of those other business improvement type processes, so those might fit into O.D. and those typically would sit out of HR, L&D and talent. So that is the subtle difference that we draw on O.D..
If we think about it, HR can differ from O.D., talent, and L&D to an extent in that HR has still got to manage the day-to-day. There is no doubt that if you're building an HR strategy you might need to focus on how to optimise transactional processes, whether it's turning recruitment online, improving onboarding processes or it could be about enhancing your disciplinary and grievance process or embedding it, or it could by compliance. There are lots of transactional business-driven activities that must sit in an HR strategy quite often. Now the difference with those is, an HR strategy might also encompass something like a performance management process.
The Overlap between Organisational Development and Talent Management
So again, we have an area for overlap. If we then move into talent management strategy and where we think talent management and L&D differ because very often in talent management, it would be a different term for L&D or someone who sits within the learning and development space. For us, the talent management role or a strategy there, it's a narrower development focus but possibly longer.
What we mean by that is it may go across the employee lifecycle so it could include recruitment then development and the performance management and upskilling and career paths of people which are a narrower population than would apply to L&D. So, L&D is a broader role, it's more holistic, it might be more learner-centric. It is still business-oriented, but they may look at both learner-driven requirements and business-driven requirements for people to develop.
Whereas the talent strategy might be aimed at specific populations of people and it's about the development and retention of key skills that are seen to be key to the business strategy. So, development would sit in there, possibly recruitment as well. This may be because it's about that end-to-end management of those individuals. Of course, that then brings us into the umbrella of 'what do we mean by talent management?' and 'how do we define talent in our organisation?'. Why not watch our webinar on 'Talent Management and Succession Planning strategies' for more guidance?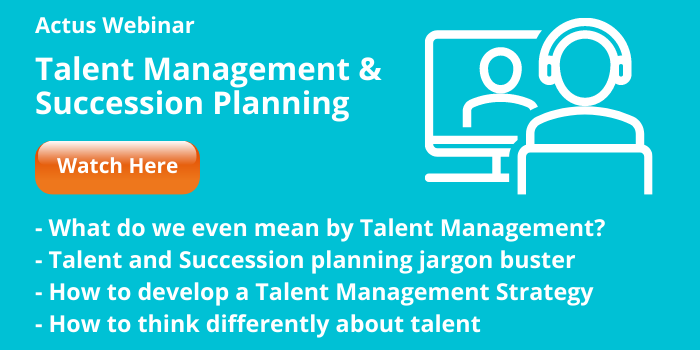 Remote Performance Management Resources
Part of our ethos is to help build a better workplace for people, whatever their location. We achieve this through great performance management software, the HR Uprising Podcast, and a variety of free thought leadership resources. Therefore, if you would like to learn more about this topic, you can find some additional resources below.
White paper: How to develop a Talent Management Strategy
Blog: 5 Talent Management Dilemmas