10 Steps to Creating a Successful Hybrid Workplace
When we asked clients and webinar guests what challenges they envision with a Hybrid Working Model many concerns were raised including:
Lost visibility of specialist skills
Confusion with collaboration technology
Fears over isolation
Lack of information sharing or creativity
Fewer career opportunities
Proximity bias
In this resource we will outline 10 steps to help you to achieve success in your organisation when moving to a hybrid way of working.
The white paper has been written in conjunction with an episode of the award-winning HR Uprising Podcast, hosted by Business Psychologist and CEO of Actus Software, Lucinda Carney. 
Interested in Hybrid Management Training?
If you are really serious about honing your hybrid management skills then why not attend our Hybrid Management Training Programme? The course consists of 4 modules that provide the tools for managers to successfully navigate hybrid people management by covering key topics such as well-being, trust, and motivation and how to handle underperformance within a hybrid environment. Click on the banner below to find out more.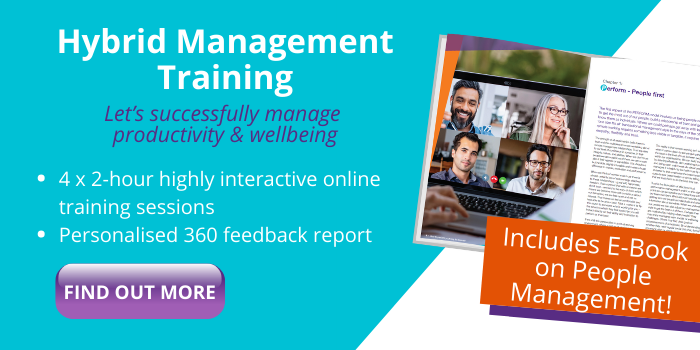 Listen to the HR Uprising Podcast
Blog: What should we be doing now to prepare for hybrid working? 
Webinar: Adapting to the new challenges of a hybrid workplace