Adapting to the new challenges of a hybrid workplace
This webinar was conducted by the CEO of Actus Software and host of the HR Uprising Podcast, Lucinda Carney. This webinar focuses on how we need to adapt to the new challenges of management within a hybrid workplace. While many of the principles outlined in this webinar are the same as the more traditional management practice, there is no doubt that the frequency, tone, and emphasis has had to change when managing people remotely. It is also a fact that many managers hadn't been adequately trained in the skill of people or performance management in a face-to-face environment. Therefore, the nuances of managing people remotely, with or without the additional strains of a pandemic have been a challenge.
As a result, we know that some businesses have thrived while others have struggled and there is likely to be a long-term impact on mental health in the workplace which in term will impact individual and business performance. Not only this but adapting to a hybrid workplace has raised other potential concerns. One among them, is the question of fairness, as it's difficult for companies to expect everyone to return to the office, but in some departments, it may be necessary for some to return. How can we treat the two workforces, both those in the office and at home, fairly? Will those in the office benefit from the visibility of their work?
Join our recorded webinar to find out more about how to overcome these challenges, and why not also take a look at our additional resources below?
Interested in Hybrid Management Training?
Furthermore, if you are really serious about honing your remote management skills then why not attend our Hybrid Management Training Programme? This course consists of 4 modules that provide the tools for managers to successfully navigate hybrid people management by covering key topics such as well-being, trust, and motivation and how to handle underperformance within a hybrid environment. To find out more about our popular training programme, click below.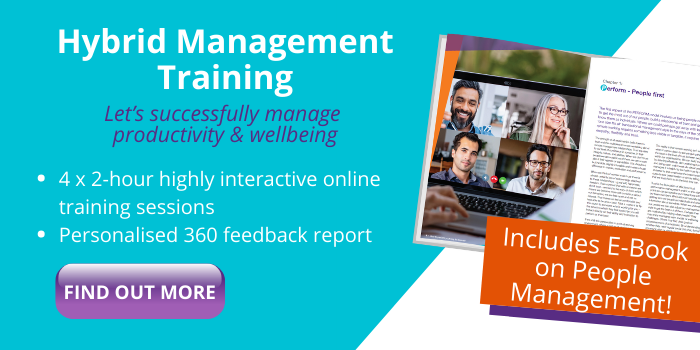 Performance Management Resources
Finally, to access this resource you will need to fill out your details on this page. Part of our ethos is to help build a better workplace for people. We achieve this through award-winning performance management software, a variety of learning solutions, the HR Uprising Podcast, and free thought leadership resources. Therefore, if you would like to learn more about this topic, you can find some additional resources using the buttons below.
E-Book: Virtual People and Performance Management
The HR Uprising Podcast: How to Build Trust