Webinar: Addressing HR Challenges in a Hybrid Workplace (Q&A)
In this special Q&A panel webinar, Lucinda Carney is joined by previous podcast guests to answer your questions addressing HR challenges. Your host (Lucinda Carney) is joined by guests Umar Zamman, Director of Human Resources & Organisational Development (Sheffield Hallam University), Janet Reilly, Director of Business & Finance (Development Initiatives) as well as Morna Bunce, Chief People Officer (Stowe Family Law LLP) in a discussion about addressing HR Challenges in a Hybrid Workplace.
Interested in Hybrid Management Training?
Moreover, if you are really serious about honing your remote management skills then why not attend our Hybrid Management Training Programme? This course consists of 4 modules that provide the tools for managers to successfully navigate hybrid people management by covering key topics such as well-being, trust, and motivation and how to handle underperformance within a hybrid environment. To find out more about our popular training programme, click below.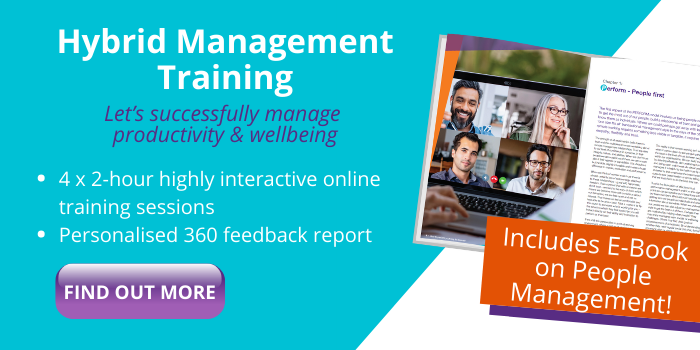 Performance Management Resources
Finally, part of our ethos is to help build a better workplace for people, whatever their location. We achieve this through great performance management software, the HR Uprising Podcast, and free thought leadership resources. Therefore, if you would like to learn more about this topic, why not take a look below?
E-Book: Virtual People and Performance Management
Infographic: Dramatic survey results reveal the impact of Remote People Management