Building Diverse and Effective Teams
Key Learning Outcomes
Understand the principles of building an effective team
Avoiding Lencioni's dysfunctions of a team
Insight into Belbin team roles
A formula for setting up for team success
Interested in Hybrid Management Training?
Furthermore, if you are really serious about honing your remote management skills then why not attend our Hybrid Management Training Programme? This course consists of 4 modules that provide the tools for managers to successfully navigate hybrid people management by covering key topics such as well-being, trust, and motivation and how to handle underperformance within a hybrid environment. Lastly, to find out more about our popular training programme, click below.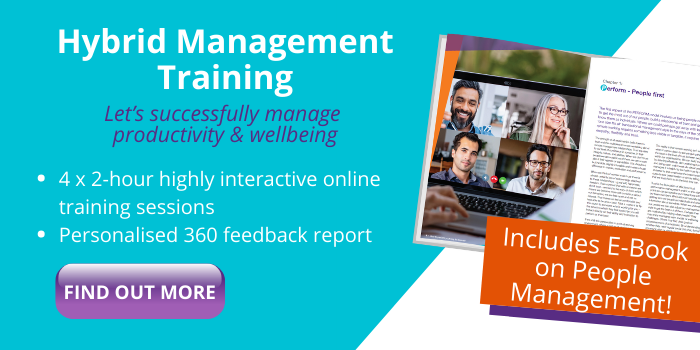 Performance Management Resources
Finally, to access this resource you will need to fill out your details on this page. Part of our ethos is to help build a better workplace for people. We achieve this through great performance management software, the HR Uprising Podcast, and free thought leadership resources. Therefore, if you would like to learn more about this topic, you can find some additional resources using the buttons below.
Listen to the HR Uprising Podcast
Blog: What should we be doing now to prepare for hybrid working? 
Webinar: Adapting to the new challenges of a hybrid workplace