Performance Management Predictions
As we launch ourselves firmly into a new decade, we at Actus unveil our performance management predictions for 2020. These predictions are based on the rising trends that we have recently witnessed, and have been validated by thought-leaders far and wide. 
The Importance of Learning and Development (L&D)
Josh Bersin, Global Industry Analyst believes that the biggest trend for 2020 is going to be about helping people and leaders learn how to 'get things done'. This prediction is supported by research conducted by McKinsey, who believe the L&D function has started to elevate itself due to digital transformation and a competitive business landscape.
As Millennials become the most populous workforce demographic this year, we see the importance of L&D continuing to grow. Emily Lofting-Kisakye, HR Director, Urban Outfitters observes the importance placed on training amongst this generation and sees the need to build people strategies to reflect this. She sites recent stats by Robert Walters in the white paper: Attracting and Retaining Millennial Professionals, which emphasises Millennial appetite for learning. Emily believes that employers should focus on such demands this year to reduce attrition rates and turn talent pools into leaders. We would, therefore, anticipate the need for employers to focus on performance management activities aligned with L&D in the year 2020.
Why not listen to The HR Uprising Podcast episode: Transforming Learning and Development with David James? Listen Here.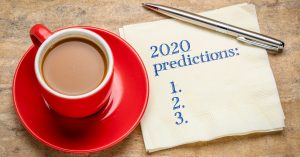 Political developments will hit employee productivity
The UK private sector activity showed signs of continued decline at the start of Q4 2019 according to a recent Financial Times article. Companies cited Brexit and continued domestic political uncertainty as the primary cause of sluggish output. In fact, Gartner revealed the average UK employee spends around 25 minutes per day worrying about Brexit. This equates to millions of hours of productivity and time lost in the workplace.
We recognise this stat to be an average, with Brexit affecting some more than others. However, it is important that employers are aware that these feelings of uncertainty surrounding Brexit could exist amongst their staff. Any change can be frightening, whether it be driven internally or externally. It is therefore important to communicate with employees about the change and address any fears head-on. Managers should conduct performance management activities including regular one-to-ones with their Team to allow such conversations to take place. This can help to prevent issues such as a drop of productivity.
For more on the topic of managing change effectively at work, why not read our white paper: How to deliver Organisational Change. You can also listen to a Podcast relating to the topic: The HR Uprising Podcast.
The popularity of Performance Management Podcasts
Approximately 7.1 million people in the UK now listen to podcasts each week. That's one in eight people and a staggering increase of 24% over the past year (Ofcom, Sept 2019). Podcasts can help employees to keep their finger on the pulse of the latest issues affecting their profession. Furthermore, with the growth in popularity of the L&D function, Podcasts provide employees with a free outlet for flexible learning within the workplace. Therefore, managers should keep up-to-date with the latest podcasts and encourage their employees to listen to them.
Amongst the HR Profession, we have seen a rise in Performance Management Podcasts. These include the CIPD Podcast which has close to 150 broadcasts. We are confident that the popularity of Performance Management Podcasts will continue to rise. In fact, our very own CEO, Lucinda launched a weekly HR Podcast back in May. Aimed at elevating the HR Profession through sharing knowledge and insights, the Podcast has so far received over 14,000 downloads.
The Podcast continues to grow weekly as new episodes are released and you can listen to it here: The HR Uprising Podcast.
Emphasis on mental health and wellbeing in the workplace
In recent years, there has been an increased focus on mental health and wellbeing in the workplace. Consequently, employers are starting to incorporate support in these areas into their performance management practices. We, therefore, predict that this trend will continue well into 2020. Adelle Shaw-Flach, trained public health nurse recommends the practice of confidential sharing amongst HR Professionals. She believes this will help them to share the issues they've been facing. It can also have a relieving effect and point the way towards methods for solving problems in a different way. Listen to her conversation with Lucinda: Mental Health First Aid Podcast.
One performance management activity that has already been mentioned is the humble one-to-one. This simple, yet effective performance management tool encourages managers to 'check-in' with their staff regularly. This can enable them to pick up on any mental health or wellbeing concerns that could be stirring. We predict that carrying out regular one-to-one's will become more popular in the year ahead. For further guidance on this performance management activity why not read our Manager Guide: 7 Simple Steps To One To Ones.
In Summary
We have outlined our top performance management predictions for 2020 based on recent trends witnessed and validated by thought leaders. We would be delighted to hear from you if you have other ideas on the direction Performance Management will take in the year 2020. Please feel free to get in touch with the Actus Team or join The HR Uprising LinkedIn Group to start a conversation.