A Performance Management Strategy in 2021
Since many companies have moved to working a combination of home and office since the start of COVID-19, the trend away from a rigid performance management style has continued. We are seeing a shift in attitude to performance management strategies, with people moving towards a more flexible approach. This new approach reinforces the critical behaviours that matter for all employees as well as aligning with core organisational objectives.
A performance management strategy in 2021 means going beyond the traditional face-to-face performance review, to more effective, fluid and meaningful conversations (that might well take place remotely). This requires real-time feedback that is accessible and interactive, and this is only achievable using an effective performance management system like Actus Software.
Provide Clarity in a remote/hybrid work setting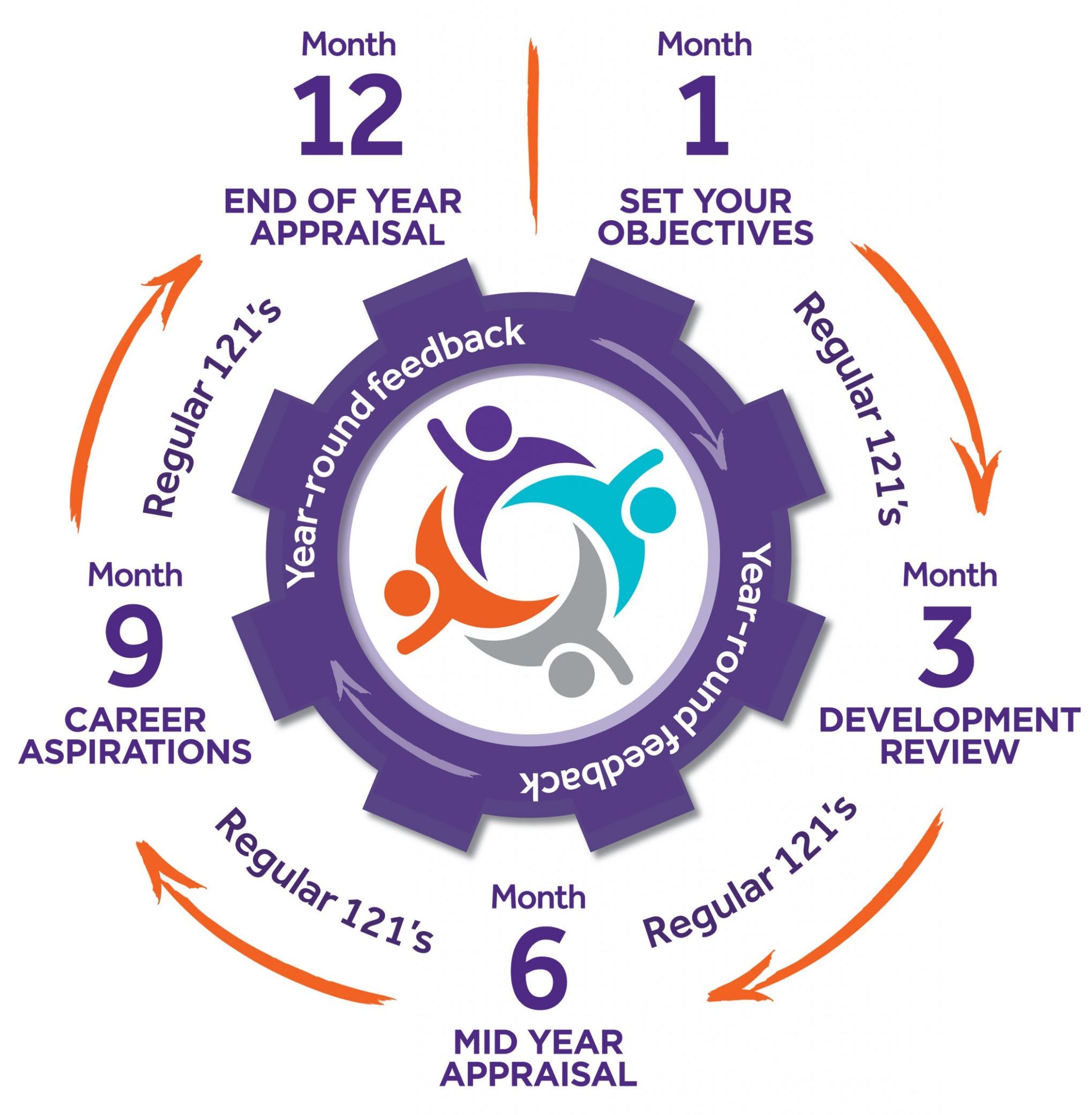 Whilst communication remains challenging in a frequently remote/hybrid setting, clarity remains key. Without this, employees will not have a thorough understanding of what is expected of them, or how to achieve and maximise their performance levels. Therefore, we would recommend holding regular one-to-one's and holding quarterly, more formal reviews as part of your performance management plans. We like to use this model to the right to demonstrate what good year-round performance management should look like.
To begin with, you set your objectives with your employee, providing clarity from the outset. Using regular one-to-one's, you check their progress against their objectives, as well as setting milestones along the way. After the first quarter, we recommend having a development review. This can provide an opportunity to see if any training can be applied to build key skills that will enable them to exceed their objectives. Next, you have the mid-year appraisal and career aspirations conversations to help engage and drive your employee towards their end-of-year targets.
For further information on how to outline a performance management strategy in 2021, take a look at our E-Book on Virtual Performance Management. You can apply this to hybrid workforces, with best practices to manage both remote and office based staff.
E-Book: Virtual People & Performance Management
Performance Management Resources
Part of our ethos is to help build a better workplace for people. We achieve this through great performance management software, a variety of learning solutions, the HR Uprising Podcast, and free thought leadership resources. Why not join our upcoming webinar on creating a successful hybrid workplace?